New Cocoa Beach dog-friendly beach keeps advancing toward final City Hall vote
After weeks of dogged debate, Cocoa Beach officials may create the Space Coast's second designated beach for St. Bernards, Shih Tzus and Siberian huskies along the city's southern, residential shoreline.
Thursday night, the Cocoa Beach City Commission decided to ditch plans to designate a dog-friendly beach at popular Lori Wilson Park. Rather, commissioners returned to a previous proposal that would establish the boundaries between Fourth Street South and the north end of Brevard County-operated Robert P. Murkshe Memorial Park.
"I just like to do what I say I'm going to do. If I'm asked, 'Am I going to allow dogs on the beach?' and I say, 'Yes,' I expect that the residents are going to expect that from me. And that's what I'm doing, because it's the right thing to do," Commissioner Ed Martinez told the audience.
"To say that Lori Wilson Park — like what, 300 feet of beach — is allowing dogs on the beach is an insult to everybody who has asked for dogs on the beach. That's ridiculous," Martinez said.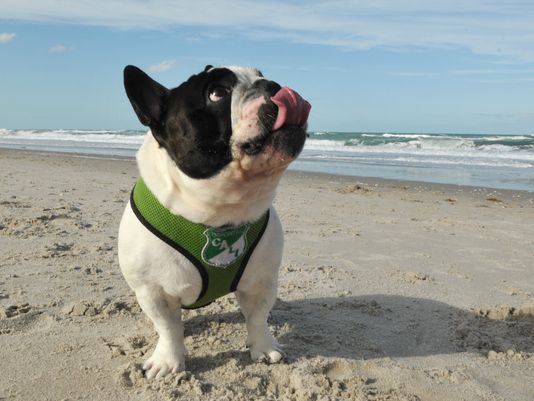 Commissioners also dropped the proposed maximum leash length from 8 feet to 6 feet, and they shortened the trial period from one year to six months. The ordinance's final reading may occur May 17. Target dog beach opening date: July 15.
Since at least 1993, dogs have been prohibited from Brevard's 72 miles of beaches, save a 700-foot dog-friendly stretch at Canova Beach Park near Indian Harbour Beach.
Poob the dachshund is reflected in Tabitha Headlee's sunglasses at Canova Beach Park near Indian Harbor Beach. (Photo: TIM SHORTT/ FLORIDA TODAY)
Thursday's vote was 4-1, with Karalyn Woulas voting no. Labeling the smaller Lori Wilson Park dog beach "a reasonable compromise," she said the larger southern beach could breed increased dog-vs.-human conflicts, feces and urine on the sand, and negative impacts on wildlife.
Conversely, Commissioner Mike Miller labeled Lori Wilson Park "a recipe for failure." He said a larger dog area stands the best chance of success, rather than confining canines to a smaller shore.
The Indialantic-based Sea Turtle Preservation Society — a primary responder for sick, dead and injured sea turtles — opposes dog-friendly beaches, citing interference with daily morning nesting surveys and evening nest excavations.
On that note, Mayor Ben Malik said he spoke with a research data manager at Loggerhead Marinelife Center, a Juno Beach sea turtle research-rehabilitation facility.
"They don't keep empirical statistical data. She just did say there were two incidents that she's aware of involving dogs. One actually had a hatchling in its mouth. Another one dug up a nest. Both, however, were unleashed animals," Malik said
"No one here is proposing unleashed dogs," he said.
Nala, a German shepherd, commuted from Orlando for a day at the beach at Canova Beach Park near Indian Harbor Beach. (Photo: TIM SHORTT/ FLORIDA TODAY)
Revised Cocoa Beach dog beach hours would extend from sunrise until 10 a.m. and 6 p.m. to sunset. Pet waste cleanup would be required, and beach rangers and code enforcement officers would enforce violations.
That latter topic — enforcement of rules — is key, City Manager Jim McKnight said. Last year, Cocoa Beach's beach rangers removed 520 dogs from the beach.
"I've rode with the beach rangers, and there are dogs out there already. One day I rode, there were eight dogs we visited that were on the beach. Six had to be removed. Two were service dogs," McKnight said.
Vice-Mayor Skip Williams said he believes a Cocoa Beach dog-beach referendum would fail at the ballot box. He wants city officials to notify affected beachfront property owners by mail before a final vote occurs.
"They will be directly affected by what's going on on the beach behind their house that they bought there. And there wasn't any dog rule — and now you're changing rules," Williams said.
Robert P. Murkshe Memorial Park is located at 16th Street South.
Tabitha Headlee and Alex Smith pose with Poob, a dachshund from Palm Bay, at Canova Beach Park near Indian Harbor Beach. 
(Photo: TIM SHORTT/ FLORIDA TODAY)
Neale is South Brevard watchdog reporter at FLORIDA TODAY.
Contact Neale at 321-242-3638
[vc_row][vc_column width="1/2"][vc_single_image image="248" img_size="full"][/vc_column][vc_column width="1/2"][vc_column_text]This highly desirable community has always been known as "Prestigious Timberlake". The community is well known for its large lot sizes and...
read more