Looking for Easter brunch spots?
Here's a roundup of what's happening across Brevard
In your Easter bonnet with all the frills upon it, you may have headed home from church to a wonderful, traditional holiday meal in days gone by, and perhaps still do. But some prefer to dine out, Florida-casual or otherwise, and a number of restaurants in Brevard County will offer special Sunday brunches April 21, Easter.
Here's a sampling of what's available. Remember, call for reservations, as some places fill up fast:
North Brevard
Chef Larry's, 111 S. Washington Ave., Titusville, will have a brunch menu from at noon to 3 p.m., with seafood, lamb, filet of beef, duck breast and special desserts for $25 per person. Call 321-368-3123 or go to cheflarrysspice.com. Cash only.
La Cita Country Club, 777 Country Club Drive, Titusville, will have a traditional Easter brunch buffet from 9 a.m. to 3 p.m. with ham, lamb, mahi and chicken dishes. Costs are $29.95 per adult and $19.95 per child. Reservations required. Call 321-383-2582.
Playalinda Brewing Co. the Brix Project, 5220 S. Washington Ave., Titusville, has what Chef Justin Medina calls an "Easter-forward" brunch menu from 10 a.m. to 3 p.m. Sundays this month, with special offerings to be announced. Call 321-567-5974 or go to playalindabrewingcompany.com.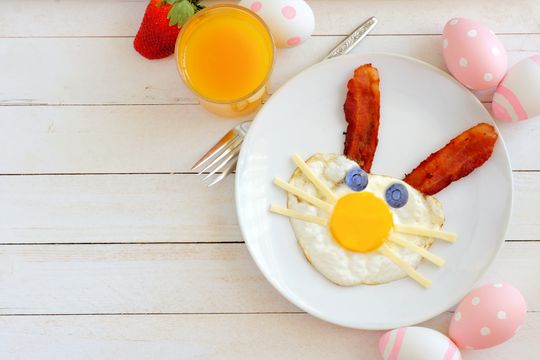 Central Brevard
Bonefish Grill will offer brunch beginning at 10 a.m. Easter. The brunch features endless hand-crafted Bellini's, Mimosas, Bloody Marys or Blackberry Sangria. Guests can make reservations in advance either by phone or by visiting bonefishgrill.com. Bonefish Grill has Brevard locations at 2251 Town Center Ave., Suite 12, Viera, 321-636-1619; and 795 E. Merritt Island Causeway, Merritt Island, 321-453-3011.
Coasters Taphouse, 5675 N. Atlantic Ave., Cocoa Beach, will have Easter items on the brunch menu. Check for times and menus at facebook.com/pg/CoastersTaphouse.
Luna Food and Wine, 9 S. Atlantic Ave., Cocoa Beach, will offer an extended brunch menu from 11 a.m. to 3 p.m. Easter. Call 321-613-5796 or go to lunafoodandwine.com.
Metro Diner, 7954 N. Wickham Road, Melbourne, will offer classic brunch items with a twist, such as fried chicken and waffle topped with house-made strawberry butter and signature sweet and spicy sauce. The diners open at 7 a.m. on Easter. Visit MetroDiner.com or call 321-247-6414.
Murdock's Southern Bistro, 600 Brevard Ave., Cocoa, will have an Easter menu; plans are being finalized. Call 321-633-0600 or go to murdocksbistro.com.
Rising Tide, 573 Glen Cheek Drive, Port Canaveral, will open at 11 a.m. with a holiday brunch menu,. Call 321-576-0676 or go to risingtidetap.com.
Rockledge Country Club, 1591 S. Fiske Blvd., will have seatings at 11 a.m. and 2 p.m. with stations that will include sliced lamb and typical brunch fare. Cost is $35 for adults; $15 for children ages 5-12; and free for ages 4 and younger. Call 321-636-6022 or visit rockledgecc.com/easter.
The Tulip, 207 Brevard Ave., Cocoa, will have a limited menu with dishes for Easter from noon to 5 p.m. Call 321-631-1133.
South Brevard
Crowne Plaza Melbourne Oceanfront, 2605 N. State Road A1A, Indialantic, will serve an Easter brunch from 11 a.m. to 3 p.m.  with carving stations, soup, shrimp, dessert table, etc. Costs are $39.95 per adult, $32.95 per senior and $16.95 for children ages 4 to 10. For reservations, call 321-775-0012.
Matt's Casbah, 801 E. New Haven Ave., will offer a buffet station brunch with a wide assortment of fare, including sliced meats, shellfish and desserts, with seatings at 10:30 a.m. and 12:30 and 2:30 p.m. Unlimited visits cost $39.95, single-plate access is $19.95, with menu items also available. Call 321-574-1099 or go to mattscasbah.com.
FLORIDA TODAY Food Editor Suzy Fleming Leonard isn't just one of our world-class journalists, she's your neighbor and fellow Space Coast resident. Suzy Fleming Leonard and Rob Landers, Florida Today
Ocean 302 Bar & Grill, 302 Ocean Ave., Melbourne Beach, will offer a buffet featuring ham, salmon, lamb, millionaire's bacon and other dishes, with seatings from 11 a.m. to 6 p.m. Cost is $40 per adult or $20 per child. Call 321-802-5728 or go to ocean302.com.
Hilton Melbourne Beach Oceanfront, 1665 N. State Road A1A, Melbourne, will seat at 11 a.m., 12:30 and 2 p.m. in the Ocean Grill for an Easter buffet. Costs are $36.95 for adults; $32.95 for military and seniors ages 62 and older; $17 for children 5-10; and free for children 4 and younger. Call 321-721-4222.
Hilton Melbourne Rialto Place, 200 Rialto Place, Melbourne, will serve its Easter brunch buffet from 11:30 a.m. to 2:30 p.m., with carving stations, egg dishes, shellfish, desserts, etc. Costs are $39.95 per adult, $32,95 per senior 55 and older and $16.95 for children 5 to 12. Call 321-768-0200.
Smokey Bones, 1510 W. New Haven Ave., Melbourne, will offer an Easter Sunday Southern Brunch starting at $20 that includes five courses. Guests can also sip on bourbon brunch cocktails, Bloody Marys and mimosas for an additional cost . For location information visit smokeybones.com/menu/brunch or call 321-951-9777.
[vc_row][vc_column width="1/2"][vc_single_image image="248" img_size="full"][/vc_column][vc_column width="1/2"][vc_column_text]This highly desirable community has always been known as "Prestigious Timberlake". The community is well known for its large lot sizes and...
read more